Adobe MAX: A Report
Adobe offers up new tools and new toys at its Adobe MAX conference in Los Angeles this week. Here's the latest, and how it impacts designers:
• If you're waiting for Creative Suite 7, wait no more, as there won't be one. Adobe has officially discontinued selling boxed software, and will serve applications exclusively through Creative Cloud beginning this summer. That means that individuals will pay a monthly subscription fee for access to all of Adobe's applications and cloud-based services, which have expanded over the past year to include access to thousands of web and desktop fonts through TypeKit.
(It also means that eventually everyone will use the same version of InDesign, as it will be magically updated from the cloud. It will be interesting to see how Creative Cloud is deployed in large media companies, which typically linger a version or two behind because of compatibility issues with other workflow tools.)
• Adobe is trying its hand at making hardware, too. Some of their first efforts, still in prototype: a digital stylus that can access your Creative Cloud preferences for brushstroke, color palettes and clipboard; a digital ruler that helps you draw straight lines, curves and other shapes; and a system of connected touchscreens intended to replace your magazine's viewing wall with a Minority Report-like experience.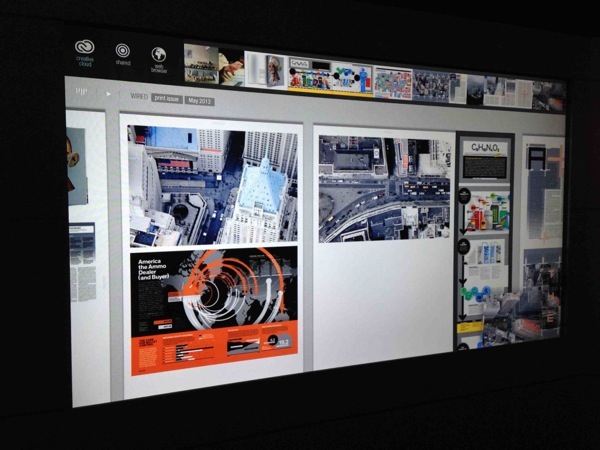 WIRED design director Claudia de Almeida helped demo the touchscreens, codenamed Project Context, by flipping pages across the stage from one screen to the other, and showing how print and tablet layouts could be digitally annotated and viewed side-by-side.
• One of the cooler applications Adobe showed was Kuler for iPhone. Kuler is a tool that helps you create, manage and share color palettes, and now you can extract color from the real world. Point your iPhone at anything, choose the colors you like, save the palette to the Creative Cloud, import that palette into your favorite Adobe application, and you're done. Here's a video.
• Digital Publishing Suite continues to soar, with 2 million digital magazines downloaded every week. Sessions at MAX have focused on extending DPS to meet the needs of non-publishing clients, creating new opportunities outside of magazines for graphic designers. We've enjoyed spending time with clients, colleagues and others interested in our services.
Creative Cloud membership also includes Adobe Digital Publishing Suite Single Edition, so anyone who has access to InDesign CC can make standalone apps for the iPad. There are also new collaboration tools that allow users to share files via the cloud, replacing services like Dropbox with smart functionality that lets you view InDesign files, color palettes and font lists online without having to download files.
• And more: There's a gyroscope-enabled panorama of the main venue from Joe Zeff Design for those unable to make the trip to Los Angeles. For those who want to go deeper into the new features of Creative Cloud, Adobe has published a set of videos here.