Official Super Bowl XLVIII Interactive Game Program
The Official Super Bowl XLVIII Interactive Game Program, an iPad app published by the National Football League, is available today in the iTunes App Store.
The app was designed and developed by Joe Zeff Design using Adobe Digital Publishing Suite. Versions for Windows, Android and Kindle tablets on their way.
Update: The Windows version is available here.
Update: The Google Play version is available here.
Update: The Amazon version is available here.
While H.O. Zimman produced the print version of the official program, JZD reworked all 288 pages to create an interactive experience for the tablet. Every article was enhanced in one way or another, and numerous bonus features were added. Some of the highlights:
• More than 30 videos, allowing fans to relive every week of the 2013 NFL season, both teams' roads to the Super Bowl, and the top 10 Super Bowls of all time.
• Animated starting lineups for Denver and Seattle, and a 3D rendering that provides a bird's eye view of MetLife Stadium. Listen closely for Peyton Manning's signature "Omaha" call during the virtual snap count.
• Real-time Twitter and Instagram feeds, current weather conditions in East Rutherford, NJ, and a countdown clock toward next year's Super Bowl.
• A Super Bowl history section with recaps of every title game, including game photos, text summaries and high-resolution images of every Super Bowl ring, and 16 feature articles with photo galleries.
• Iconic music from the NFL Films archive, presented through an innovative audio player that's as fun for the eyes as it is for the ears.
• Activities for the kids: Picture yourself as a Bronco or Seahawk, or drag warm clothes onto a frozen spectator attending the first cold-weather Super Bowl in decades.
• Sortable lineups by name, number and position; links to every NFL team website; multimedia advertisements for Microsoft, GMC and Adobe; and much more.
If that's not enough to satisfy your craving for content, the app has a custom storefront stocked with past Super Bowl programs that can be purchased and downloaded to your tablet. And immediately after Super Bowl XLVIII, this year's program gets an update with photos, video and a recap of the big game.
Some screen captures: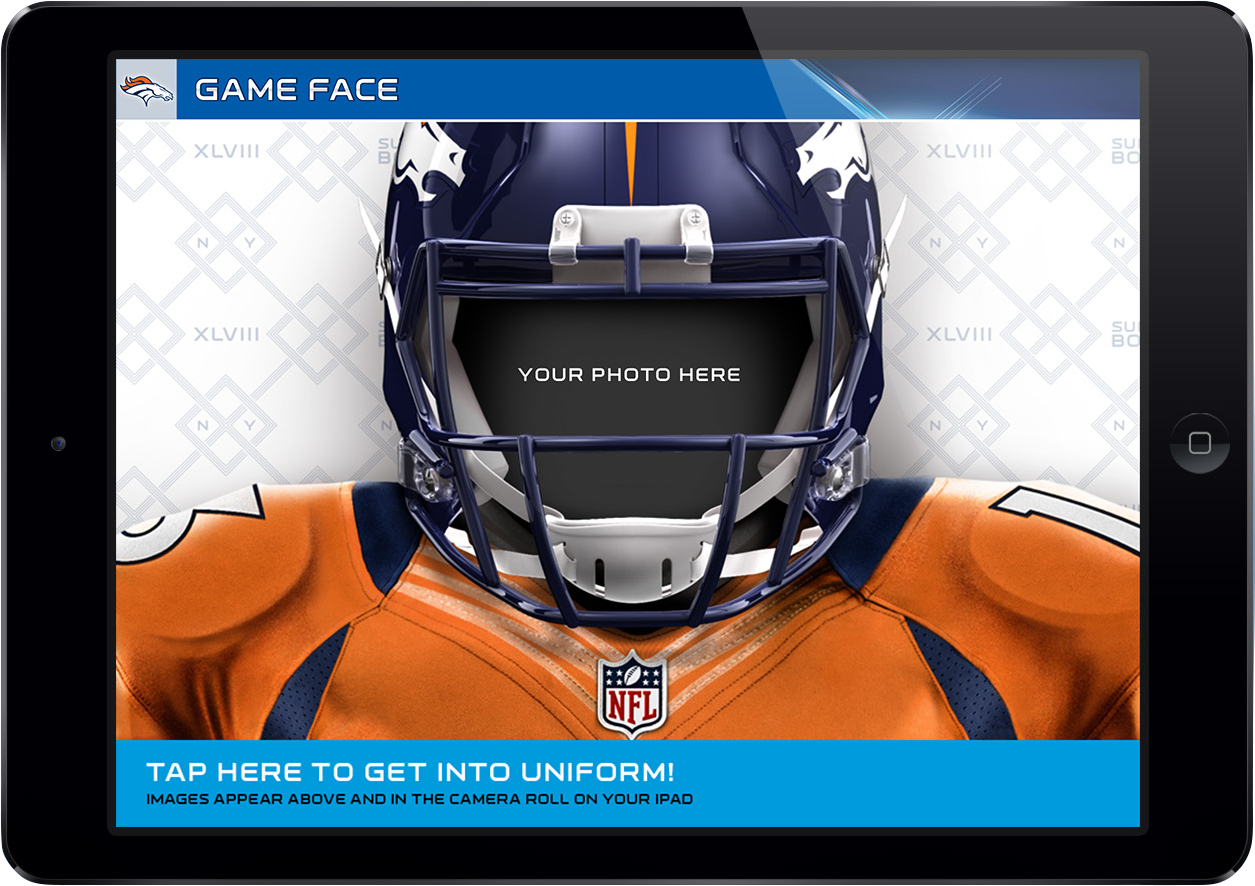 Apps like the Official Super Bowl XLVIII Interactive Game Program showcase the enormous opportunities for leagues, teams and universities to engage with fans. We're proud of our collaboration with Notre Dame this past football season to develop a weekly iPad app that enabled fans worldwide to follow the Fighting Irish. We're excited about the potential for these apps to generate revenue from advertising, subscriptions and incremental sales as the medium evolves.
But this is only the beginning. Interactive gameday programs can make live sporting events more relevant to a generation of fans accustomed to interacting with screens. Someday fans may be able to chat with one another, order hot dogs from their seat, and watch live feeds from helmet cams, huddle cams, sideline cams and locker room cams. Targeted advertising would direct Bud Light ads to the bleachers and Heineken ads to the club seats, and turn spectators into participants by allowing them to call plays and enter contests.
The Official Super Bowl XLVIII Interactive Game Program was a team effort. Many thanks to the National Football League, especially Amanda Herald, Michelle Clark and Amanda Roman, and everyone at H.O. Zimman.
We couldn't have developed such a robust application as quickly as we did without Adobe and its Digital Publishing Suite. Shoutouts to Nick Bogaty, Gerald Farro, Sean Schnoor, Ivan Mironchuk, Derek Lu, Neil Enns and Alex Amado. Anyone making magazines with DPS should download this app to see what's now possible with DPS.